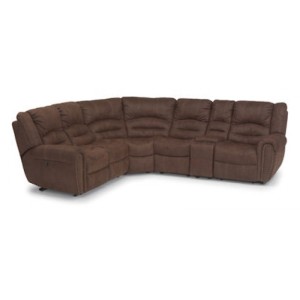 A sofa is only as strong as its infrastructure. This is exactly the thoughts behind the Flexsteel furniture company choosing to put the support system of Blue Steel Spring into their furniture pieces. Actually, they feel so strongly (no pun intended) about this support system that they offer a lifetime guarantee on it. The structure itself hasn't changed much over the last 75 years. What's that saying? "If it's not broke, don't fix it." This is exactly their take on it. It is a system that has been effective for decades and there's simply no reason to change anything about it. This system never requires any maintenance such as retying or even replacing much like that of the traditional eight-way hand-tied system. The Blue Steel Spring system requires none of this and yet, still, will withhold through time never leaving you with that sinking feeling when you sit.
Taking customer service a step further, the Flexsteel furniture company builds each piece with care and careful precision at the point of order. They know that your sofa is a full expression of your personality. They take a hands-on approach to furniture building and are committed to the satisfaction of the customer. They rely on their high quality suppliers and their impeccable attention to detail. Their values have been a cornerstone in remaining a top furniture manufacturer around the world.
To experience a Flexsteel brand sofa or chair you can shop the inventory at the Peerless Furniture store in Fairview Heights. It is there where you will find all of the top furniture manufacturers under one roof. The store includes pieces from Flexsteel, of course, but also from Fjords, Canadel, Klaussner, and Natuzzi Editions. Stop in the store today or being perusing their online inventory via the website. You will not be disappointed in what you will find.