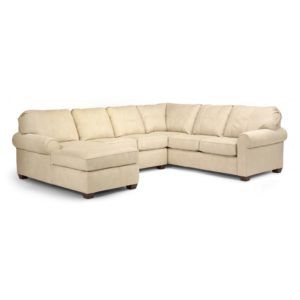 One of the best brands of leather furniture on the market right now is the wonderful Flexsteel brand. This is a brand of leather furniture that is going to offer beautiful style as well as durability. It has the ability to blend with any interior design style, as well. You won't have to worry about this furniture falling apart in a couple of years with the Flexsteel brand. Luckily for you, this brand is available and ready for pickup at Peerless Furniture store. You can also find some other incredible brands like the Natuzzi Editions, Canadel, and Fjords. If you're on the hunt for something to spruce up your home then you should definitely consider shopping at Peerless Furniture store.
This Flexsteel furniture store near Granite City offers many styles and colors of sofas, chairs, sectionals, recliners, and more. With the Flexsteel brand, you will get the Blue Steel Spring technology. This technology is part of the support system for the cushioning of your furniture. It has been around for many years and they have totally perfected it. This works so well that you will never have to have your springs restrung or tightened. You will never get frustrated with a sinking sofa cushion ever again. With this technology, you will receive a lifetime warranty so you won't have to worry about sunken cushions throughout the lifetime of your sofa. Every other piece of material used to make the Flexsteel furniture is inspected to ensure that it is of the highest quality. This goes for every single part of the building process.
Whenever you're ready to learn more about Flexsteel or any of the other brands that are offered at Peerless Furniture all you have to do is drop by. They have a team of experts that are always ready and willing to help out their customers.