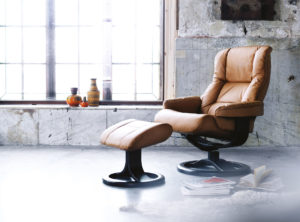 Finding the perfect recliner for your home can seem like a daunting task. However, thanks to the Peerless Furniture store in Fairview Heights, IL you can easily choose the perfect recliner for your home. It is there where you will find all the top furniture brands and those that specialize in recliners. These include Klaussner, Canadel, Fjords, Flexsteel, and Natuzzi Editions. The Fjords brand is one that is noted for their incredibly comfortable recliners. In addition to being extremely comfortable they are also incredibly classic and stylish. Stop in the St. Louis furniture store, Peerless Furniture, to see for yourself the difference a Fjords recliner could make in your life.
The resting position of the Fjords brand recliner is easily achieved by just using your body weight. It automatically adjusts to the curve of your neck and back and provides the ultimate rest and relaxation for your legs and back.  Each of their recliners is donned with the Active Release System that automatically provides a supreme level of neck and back support. With a single movement or shift in your weight it will adjust until you've reached your desired level of rest and support.
Some of the Fjords recliners also have an adjustable neck support that goes along with the Active Release System. This is in an attempt to even further support your spine comfortably and in all the right angles. Through simple adjustments your Fjords recliner will comfortably support everyone in your home. No longer will mom and dad each need separate recliners to achieve perfect comfort and support. You can get everything you need from one Fjords recliner.
To experience the support and comfort of a Fjords brand recliner simply stop in the Peerless Furniture store. Or you can easily peruse their online inventory via their website.