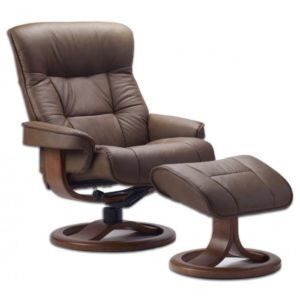 Leather furniture is a great addition to any home. Just the look of fine leather furniture brings up the style and class in any home. This is not to mention the feel of it as well. When you choose to shop at the St. Louis leather furniture store, Peerless Furniture, you choose to shop where all the best furniture is sold. It is at this furniture store where you will find all the top brands which include Natuzzi Editions, Flexsteel, Klaussner, Canadel, and Fjords. Each of these brands is a leader in their field. They hold all of the top selling positions and continue to push the standards for furniture comfort and innovation.
The Fjords brand, as mentioned in a previous article, offers three different leather coverings for their furniture. The Nordic line has been mentioned in the previous article. The Soft line is their next leather covering offered. This leather has a unique softness about it. It has a completely natural feel making it one of the most comfortable leather coverings on the market. Before it is sold it is treated with a delicate protective finish that guards against stains and improves its resistance to liquids. It is the ideal leather furniture option for families that want to enjoy the high quality look and feel of leather while not compromising their everyday life.
The Astro line is semi-anilin. This is a term that means the leather has been partially aniline dyed. A certain amount of dye is applied to only certain areas of the leather to even out the tones and blemishes of the hide and make it more resistant to liquids. There is also an increased resistance to spills and other damaging environmental factors. This type of leather is generally a bit thicker than other furniture leather yet still remains soft and resistant to wear and tear.