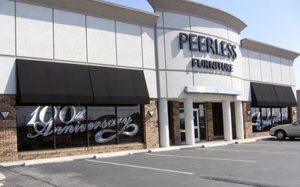 At the Peerless Leather Furniture store near Springfield, IL you will find only the best furniture brands on the market. Adding new furniture to your home will set the stage for you and your guests. Be sure to choose wisely and mindfully. You don't want to invest in something costly just because it looks great yet serves no real function for your family. This is only investing in looks alone. However, it is a real find when you discover something worthy of your investment that will look great, feel great and serve your family well for years on end. This is precisely what you will find behind the doors of the Peerless Furniture store in Fairview Heights, IL. It is there where you will find brands including Natuzzi Editions, Canadel, Flexsteel and Fjords.
The Fjords brand is well known for many reasons. One of the reasons is that they are completely committed to comfort and quality. Their furniture quality is the best on the market, and ever-changing to remain top tier. They know exactly what consumers are looking for when it comes to comfort and style. In fact, their furniture is the perfect marriage between the two. Their furniture goes so far as to make your life better and easier. And who can't use a little bit of that?
The Fjords brand has been in business for more than 70 years. That is proof enough that the company is doing many things, very well. Not only have they been in production for that long but they've been the leading furniture manufacturer in Norway for that entire time. This is a company you can trust. This is exactly why you will find the brand at the Peerless Furniture store near St. Louis, MO.
Stop in to Peerless Furniture to see what the Fjords brand has to offer.