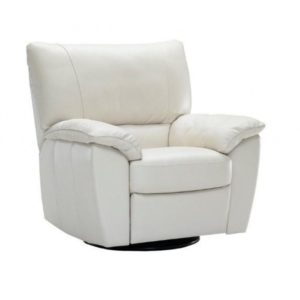 The Peerless Furniture store located in Fairview Heights, IL is one that is home to all the top name brand furniture on the market. There you will find popular brands which include Flexsteel, Fjords, Canadel, and Natuzzi Editions. Each of these brands are well known for their incredible attention to detail and their high-quality materials. Just the same, the Peerless Furniture store is also committed to these attributes as well. You won't find any big box chintzy furniture in their showroom. They pride themselves on the best and will leave nothing compromised to bring their customers just that.
Adding reclining furniture to your living room or entertainment area probably sounds like a wonderful idea. However, traditional reclining furniture has a rap for being big and clunky and can seem to cheapen a room. However, when you choose any of the St. Louis leather recliners from Peerless Furniture you can rest assured knowing the leather reclining furniture is only going to add to the class and style of your home and living spaces.
The Natuzzi Edition brand is one that would add great style and class to your living space. They have several leather reclining options that are available as stand-alone pieces, such as a traditional reclining chair, or as an add-on to sofas, love seats and sectionals. Their recliners are held to the same quality and value standards as the rest of the furniture. You can be sure you're getting a high-quality recliner and not an afterthought that has compromised bones. Each Natuzzi Editions recliner is built to withstand normal wear for decades. They've included their reclining chairs in their modern style too. Trust me when I say this, your Natuzzi Recliner will fit right in with your classic and/or modern furniture.
Stop into Peerless Furniture today to learn more about the Natuzzi Editions recliners they have to offer.