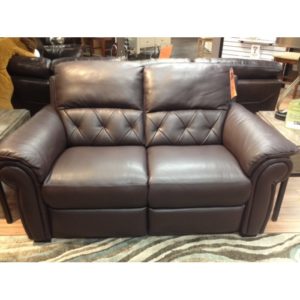 At any given time Peerless Furniture has a variety of different specials or sales going on. If you are looking for a great deal on quality furniture then you should definitely visit this leather furniture store. There you'll be able to look at different sofas, loveseats, dining room sets, or sectionals. These specials are always changing because they leave the store quickly because they truly are incredible deals. It's important to know that these pieces of furniture aren't on sale because they have any damages. It's simply because they are always trying to move furniture out to make room for new pieces. This means you aren't going to purchase a piece of furniture that is going to fall apart as soon as you get home.
They currently have a beautiful Natuzzi Reclining leather loveseat for only $995. This loveseat is a deep chocolate brown and would look great in your living room. If you are looking for a larger piece of furniture then you should take a look at the black leather four piece sectional that is currently on sale at Peerless Furniture. This piece of furniture could easily seat eight people and it could be in your home for under $1,500. This is an incredible deal for furniture that is extremely durable, stylish, and comfortable. They also have a dark brown living room set sofa and loveseat available for only $1,295, as well.
We here at Peerless Furniture are ready to find the most beautiful and perfect piece of furniture for your home. We promise that we will stick to your budget and never try to force you into purchasing something that you don't feel 100% comfortable buying. Visit our store today and find some great reclining leather furniture near Florrisant, MO. You will definitely find something that reflects your personality that also has an excellent price tag.