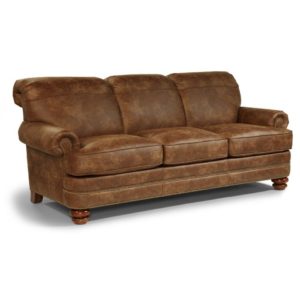 When it comes to finding a quality piece of furniture none can compare to the Flexsteel brand. It has construction, style, and comfort all mastered. Could you really ask for more in your furniture? We don't think so! The Flexsteel brand makes the costumer's happiness their top priority. This is why they produce furniture that is durable enough to withstand the daily wear and tear of furniture use. They've been in the furniture making business for a very long time and their famous Blue Steel Spring hasn't changed all that much in the past 75 years.
The first and most important part of a piece of Flexsteel furniture is the construction process. They begin with the frame using only the best moisture resistant wood. The frame of your furniture will be guaranteed for life to ensure that you are protected if something were to go wrong with it. The Blue Steel Springs are also going to come with a lifetime guarantee. These springs are never going to need retying or replacing and Flexsteel is extremely confident in their product. The springs are going to give you the most comfortable lounging and you'll never have to deal with the sagging and sinking that most cushions create over time.
Investing in a piece of Flexsteel furniture is an extremely good idea. You'll be able to have the comfort you want and the style you need for your home. These pieces of furniture are designed carefully with the highest of standards in place. You can find your very own Flexsteel furniture at Peerless Furniture store. Whether you're looking for furniture for the living room, office, dining room, or bedroom you'll be able to find it at Peerless Furniture, leather furniture store near St. Charles, MO. Visit our store today to start your shopping on the right foot.