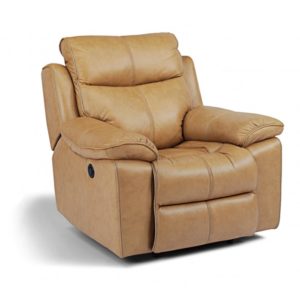 I'm not sure about your home, but my home growing up always had "the chair". This chair is always the one that my father sits in. Of course, others can sit in it, but chances are if he was home then he was relaxing in it after a hard day's work. Now I'm the first to admit that I want a comfy chair for my own comfort, as well. If you don't have your comfortable recliner then you need to visit Peerless Furniture. We have exactly what you need to enjoy your nights off.
With the wide selection of Natuzzi Editions, Flexsteel, and Fjords you'll definitely be able to find a comfortable, stylish and functional leather recliner near Carbondale, IL. One great option if you're looking for multiple recliners is to purchase a sofa or sectional with multiple recliners built into the structure. You can find tons of options for these types of leather furniture at Peerless. You can have your option of leather or fabric with many different color options available. You no longer have to settle for ugly recliners that take away from the classiness that your living room offers. These beautiful leather sofas will only add to the style that you have created in your home. Every brand that you find at Peerless Furniture is of the highest quality and known well throughout the leather furniture industry. These brands are also known for the quality of their craftsmanship. They even come with warranties to help ensure that this furniture will last a lifetime. The springs aren't going to wear out over time unless something were to have gone wrong during manufacturing and if this is the case then the warranties will pay for the repairs.
Whenever you're ready to learn more about the furniture available at Peerless Furniture store you can visit their website or stop by in person. We can't wait to help you find that perfect recliner for your home.