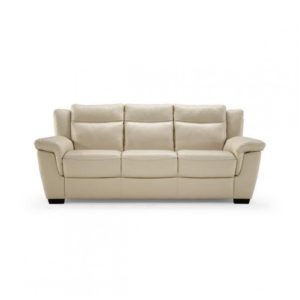 We here at Peerless Furniture understand that making an investment in fine leather furniture can at first glance seem like you're dropping a lot of money at once. In all actuality, purchasing a piece of leather furniture means you'll benefit from the high end and top quality that these pieces offer for a lifetime. Every piece of furniture that you found at the Peerless Furniture store will be of the highest quality.
Of course, leather furniture will need some maintaining in order to last and look great over the years. You'll find some great brands at Peerless Furniture like the Natuzzi Editions and Flexsteel. These brands will both offer some protected leather for your furniture which helps the furniture last even longer. The Natuzzi Editions line has a full line of furniture made with Protecta leather. This type of leather is cured with a protective coating that prevents stains and natural wear from occurring over time. The greatest benefit to this Protecta leather is that you'll still see the beauty of the natural leather. We understand that the best way to determine if a couch was made with real high-quality leather is if you can see the natural markings so with this protected hide you'll still be able to see all of these without risking damages over the years. This is the best option for families with small children or inside pets.
When it's time to finally make your purchase you will have plenty of brands and lines of furniture to choose from at Peerless Furniture. They have many different colors for you to choose from so there is no doubt that you'll find something that fits in with your style. Peerless Furniture store near O'Fallon, IL is in the business of finding you the perfect piece of furniture no matter what. Their team will work tirelessly to help you find the perfect piece of leather furniture.