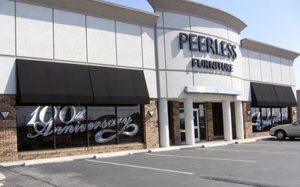 Many people assume that the care and maintenance of leather furniture is more difficult than that of upholstered furniture. On the contrary. In fact, it is far easier to care for leather furniture than upholstered. The Peerless Furniture store in Fairview Heights, IL is well known for servicing all of the St. Louis area with the best leather furniture on the market. It at this St. Louis furniture store where you will find all of the top brands in the furniture market. These include Natuzzi Editions, Flexsteel, Fjords, Canadel, and Klaussner. Chances are you've heard of most of these brands and there's an even better chance you've had the opportunity to feel the comfort of their furniture firsthand. Their leather is second to none and because of this it is easy to care for and will continue to look better and better as time passes.
When you first purchase a leather sofa, love seat, chair, or recliner from the Peerless Furniture store you will notice a few things. First, the leather isn't without imperfections. This is due to the fact that these manufacturers are committed to using only top of the line, genuine leather. This means that with each hide there will be markings of bug bites, scars and scratches, and general imperfections that go along with any living animal. Caring for this type of leather is fairly straightforward. Keeping it out of direct sunlight will keep it from fading.
On a regular basis you should dust it with a dry cloth to keep dust and dirt from settling into the surface of the furniture. Aside from that most of the care will come from preventative measures.The easiest way to do this is to keep food and drink away from the leather when possible. If these materials come in contact with the leather it is best to clean it up as quickly as possible. This will ensure the staining of the leather will be kept to a minimum.
Thanks to these brands using high grade leather, the regular wear and use will only add to the character and charm of the furniture, making it look better and better with time.