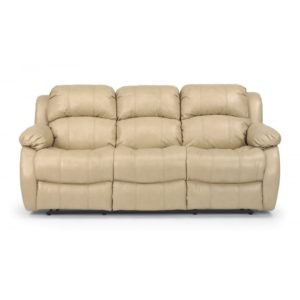 The heart of a good furniture company is practices that have been successful for decades on end. The Flexsteel furniture company is one such as this. They have been developing furniture in such a way that exceeds the customer's expectations for decades. For this reason, they are one of the most noted companies in the business. You can find the Flexsteel brand at the St. Louis leather furniture store, Peerless Furniture along with a few hand-picked companies as well. The Peerless Furniture store in Fairview Heights, IL is committed to bringing only the best to the St. Louis area. At the store you will find brands which include Fjords, Canadel, Klaussner, Natuzzi Editions, and of course Flexsteel.
The Flexsteel company believes that people, rather than machines, are the best at making furniture. This is a process they have adopted from the beginning of their formation and continue to employ to this day. It's not broke, so there's no reason to fix it. It simply works.
The Blue Steel Spring system is also found at the core of their success. In fact, it's actually at the core of all their furniture. It can be found in all of Flexsteel's upholstered furniture. They are so confident in this system that they guarantee its durability for the lifetime of the furniture. This means a Flexsteel sofa, love seat, or recliner will never lose its shape or sink over time and regular use.
The Flexsteel company doesn't spend their time mass producing cookie-cutter furniture. No. They actually don't even begin building a piece of furniture until it has been ordered. Each piece is built to the specific customization of the customer. No two Flexsteel pieces are alike, well, aside from the top of the line materials used and the Blue Steel Spring system at the core of the furniture.