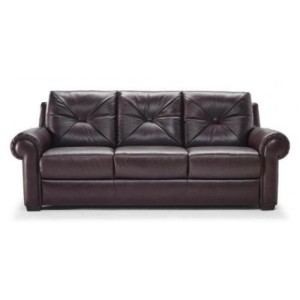 The Natuzzi brand furniture is one of the best in the business. In fact, this is precisely why the Peerless Furniture store has decided to carry the brand. Natuzzi is one that has withstood the test of time and continues to push the envelope when it comes to comfort and innovation. The other brands carried at the St. Louis leather furniture store include Fjords, Flexsteel, Canadel and Klaussner. I'm sure you've heard of some, if not, most of these at some point, especially if you've ever been on a quest to find the perfect piece for your home.
The Natuzzi furniture brand offers top of the line leather furniture to their customers. In fact, they even have their own tanneries to ensure each leather covering meets their high standards for quality. For some reason when you think of leather furniture you may think of an old classic home library room or something courtly like that. And it's true, a leather furniture piece can be stately and noble in just about any room you put it in. A leather Natuzzi brand sofa will achieve just that. The leather used by the company is long lasting and will just get better with the passage of time. It is strong, flexible, durable and will naturally adapt to the shape of your body as you sit or lay on it. Unlike the common notion that leather is too hot in the summer and just too cold in the winter, Natuzzi leather is just the opposite. This is because of its high quality. It will keep cool in the summer and warm in the winter. It is the perfect addition to any living room, family room, man cave, media room, or bedroom.
To learn more about the qualities of a Natuzzi leather sofa simply stop in to the Peerless Furniture store near Edwardsville, IL. Our customers service representatives will be happy to assist you.