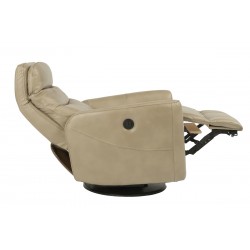 Sometimes our furniture must fulfill a dual purpose. Of course, it has to be functional and comfortable, but we also want it to look nice and fit in with our other décor. Thanks to the Flexsteel furniture brand you can perfectly have all of the features you want in one spectacular piece of furniture. The Flexsteel brand has been operating for decades and has pushing the limits of innovation for decades, never compromising on their commitment to high quality craftsmanship. This is precisely why the Flexsteel brand is carried at the Peerless Furniture, leather furniture store near St. Louis, MO. It is there where you will find all of the top furniture brands on the market. They carry brands which include Natuzzi Editions, Fjords, Klaussner, Canadel, and of course, Flexsteel. Stop in the store today to begin feeling the comfort and quality of a Flexsteel brand recliner.
As we age or as we encounter life's hardships we may require a bit more from our furniture. The Flexsteel brand is one that has professionally designed furniture to aid in such times of life. They have many recliners available with the lift function. Each chair is built using high quality materials, so you will never have to worry about malfunctions at a time when you rely on the chair the most. The power lift chairs give you the ease of getting into and out of your favorite recliner in the house. The batteries in the mechanism can be recharged and used ongoing without ever needing to be out of commission for your needs. It is the one recliner that will continue being your favorite chair no matter what life is handing you, no matter how your needs change.
To learn more about the Flexsteel brand or to get a feel for the Flexsteel brand recliners simply stop into the store or you can begin perusing their online inventory as well.