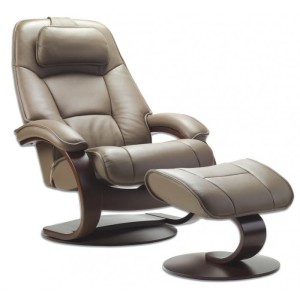 As mentioned in a previous article the Fjords brand is one of the most well known brands when it comes to comfort. They simply do it better than the rest. This is precisely why the Peerless Furniture store near St. Louis, MO carries the Fjords brand. In fact, they stock all of the top furniture brands on the market. At the St. Louis leather furniture store you will find brands that include Flexsteel, Klaussner, Canadel, Natuzzi Editions, and of course Fjords.
In a previous article we began looking into the comfort styling of the Fjords brand. There are numerous styles within this collection; each one a bit different but still holding true to the lofty standards of the furniture maker.
The Loen chair by Fjords is one that comes available with bases which have a 360 degree swivel radius. Similarly the Muldal chair is available with bases that also have the 360 degree swivel. In addition, the base is produced in laminated, stained wood. The Ona collection by Fjords is noticeably one of the most comfortable. It is a customer favorite. Within this collection sofas and chairs are carefully matched keeping the utmost comfort and functionality in mind, providing for an unforgettable sitting experience.
The Fjords Regent chair is one that is properly equipped with the Fjords Active Release system TM. This provides second-to-none neck support no matter what position.
The Scandic chair by Fjords has a variable adjustment feature for continuous leg and back support. It also comes with base options that provide the 360 degree swivel capability.
The Senator. It's as regal as it sounds. The Fjords Senator chair is also one that comes available with the 360 degree swiveling bases. In addition, the base is produced in laminated, stained wood giving it exceptional character. Just the same the Fjords Trandal chair also comes with the swivel base option.
Finally, the Fjords Voss chair is donned with the height adjustable headrest which creates an ergonomic experience. It provides impeccable neck and spine support.