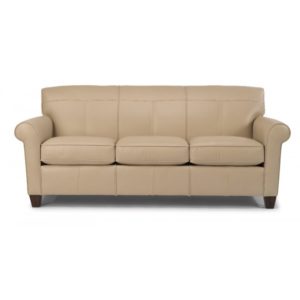 There is a lot that goes into creating a piece of Flexsteel furniture. This brand believes that the best furniture made is that which is created by hands and not machinery. This one important concept has shaped the brand over its 125 years into one of the best furniture brands on the market today. Styles may change but their commitment to offering the best furniture never will.
Every piece of Flexsteel furniture starts off with its great materials. They will only ever use high-quality products sourced from specific companies. They use the finest wood and leather around and they'll even guarantee the quality of these materials. Inside of the furniture's cushions, you'll find the Blue Steel Spring technology. This is the core of the comfort that you find with every Flexsteel piece. This spring is a support system that never needs to be restrung like other springs. This means you aren't going to experience any sagging in your sofa over the years.
Your home is a vision of your own style and this is why you need a sofa that can add more of your style to the home. This is important to the Flexsteel brand too. We want to design something that can be completely one of a kind for your home. When you customize your furniture we will work with you to produce exactly your vision. You know that the Flexsteel brand has been around a long time so that means that they have finetuned their craft. They never cut corners in any part of the process to ensure that the customer gets a perfect piece of furniture. You can visit Peerless Furniture store and talk with one of their crew members to choose the fabric, wood finish, cushion, trim, and extra features that you want with your customized piece. This process has been streamlined so that you don't have to wait forever to get your item delivered. Visit Peerless Furniture to find your leather Flexsteel Furniture in St. Louis, today.