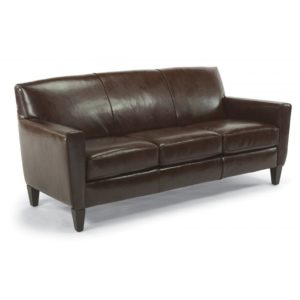 There are so many misconceptions that come with leather furniture and we're here to stomp all of those out. Through this article, we will answer a few questions that we have heard time and time again. This is to try and help all of the Peerless Furniture customers decide whether they should purchase leather furniture the next time they are looking to purchase new furniture.
Isn't leather furniture high maintenance? The answer to this may surprise you because it actually isn't. Leather furniture is a natural material that was part of a living animal at one point. This means that it is actually extremely durable and able to withstand a lot of wear and tear that most furniture could hold up to.
If I buy leather with "natural markings" will that make it weaker? Natural markings are simply the scars from healed wounds that happened during the course of the animal's life. They don't make your leather any less durable though. We here at Peerless Furniture believe that furniture with natural markings are even more special and set apart from other pieces of furniture. When you purchase these types of furniture you'll truly have a one of a kind piece. All of the brands that we have at Peerless Furniture will use the best quality of leather to create sofas, chairs, and sectionals. Any piece of leather that would appear to be weak would be thrown out.
If you have any other questions about our leather furniture you can visit Peerless Furniture store and find some great furniture brands like Flexsteel. This brand offers you some of the best leather furniture on the market right now and you definitely can't go wrong with it. We have a team of experts available at all times to help answer all of your questions and try to find you something excellent for your home. Visit us today!