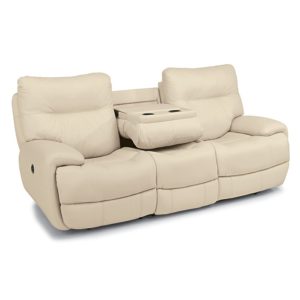 One of the top priorities for us at Peerless Furniture is quality. We always want to bring our customers the best that is available so that we can ensure that their purchases will last. This is why we sell the Flexsteel furniture brand. They guarantee high-quality materials with the highest standards in construction. They have basically mastered the art of making furniture, but that doesn't mean they ever slack off either. They are always growing and stretching their ideas to bring you the newest innovations for furniture.
The Flexsteel furniture brand knows that buying can be a huge investment for some. This is why they aren't going to make you invest in something that is lacking in any area. The most important standard that Flexsteel has for their furniture is that they use the best materials available. They source all of their wood from specific vendors and never from random businesses. They check every piece to ensure that it is sturdy and will last for years to come.
Blue Steel Spring goes into the Flexsteel furniture which comes with a lifetime warranty. These springs are what make the furniture so comfortable and durable. With this system, you will never have to deal with the sagging and drooping that most sofa cushions will see. You have a lifetime guarantee that these springs will never have to be tightened or restrung. This means that your Flexsteel furniture will be around for your whole life.
Now that you know a little bit more about the Flexsteel brand you can visit Peerless Furniture to check it out in person. You will be able to find some beautiful pieces of leather Flexsteel Furniture near Mt. Vernon, IL, and the team at Peerless Furniture can't wait to help you out. They'll guide you to something that fits within your budget and your style.