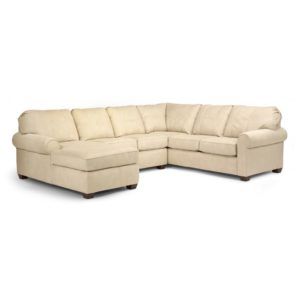 I love a big comfy sectional sofa. I love them even more in a home with an open floor plan. This kind of layout is perfect when you like to spend time together. Sectional sofas are perfect for those who like to cuddle up next to family and friends and relax. With these types of sofas, you are able to fill up a lot of space without purchasing 4 or 5 pieces and wasting space. If you shop at Peerless Furniture store you will be able to find some incredible sectionals in a variety of different styles. You will be able to find something great for your living room with the help of their incredible staff.
One of the great brands you will take a look at is Flexsteel. This leather furniture brand has a lot to offer your family. The first thing you should decide is what color you are looking and what kind of budget you are working with. The Peerless Furniture team will show you furniture that fits your needs and will never push you to purchase something outside of their comfort zone. If you need something large to fit a big family or for all of those parties that you host then you'll be pleased to find some great options with us. The Flexsteel sectionals can be customized to add in additional pieces or to add in recliners.
We here at Peerless Furniture want to help you find that beautiful leather sectional that you have been searching for. With the variety that we offer there is something in store for every shopper. Visit us online or in-store to look at the leather reclining sectionals near Ballwin, MO and you will be starting your journey off the right way. We can't wait to help you through this whole process.