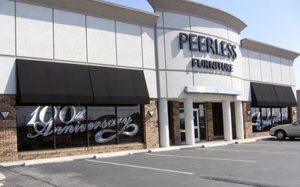 If you are in the market for a new set of furniture then you've come to the right place. Peerless Furniture is the store that you are going to want to work with. This is a place where you'll be able to save yourself a lot of time and money. There are always going to be great deals offered by this leather furniture store, but they work even harder to not waste your time.
Finding the perfect piece of furniture isn't hard in this store because they offer you a wide variety of styles between several different brands. You'll find brands like Flexsteel, Natuzzi Editions, and Fjords which are all well known throughout the leather furniture industry. Quality is extremely important to the above brands. They create each piece of furniture with extreme care to ensure that it will last you a lifetime. This saves you a ton of money in the long run because you won't have to replace your furniture after a couple of years due to wear and tear.
The people at Peerless Furniture work hard to save you money while you are shopping with them. They stock furniture in a way that allows them to keep lower prices than usual. This doesn't mean you are getting cheaply made furniture that can fall apart. You're still getting only the best when you shop at this store. Furniture is a huge investment and we want to make sure that you feel comfortable with making that investment.
We'll work hard to save your time whenever you shop with us, as well. This means we'll take you right to the style of furniture you're interested in instead of trying to upsell you on anything. Visit us at www.peerlessfurniture.com to take a look at some of the inventory that we currently have in stock and to start your furniture shopping without leaving the comfort of your own home.