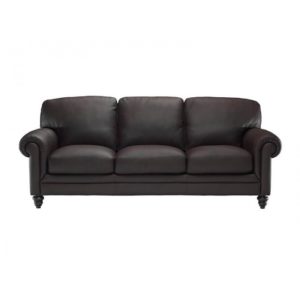 One great benefit to purchasing furniture with Peerless is that they offer brands that will allow you to design your own piece of furniture. If you decide to go this route then you will need to start by considering the type of material and colors you want for your new chairs or sofa. Once you have decided on these two things you'll want to decide on the leather or fabric for your furniture. Both of these will be offered through Peerless Furniture and the brands that they offer. I'll be honest, I love leather furniture, but both types of materials are going have their pros and cons. They will also both offer you a different type of aesthetic for your home.
It's important to know that you can totally pull off leather furniture. I feel like a lot of people believe that leather furniture is only a good possibility for fancy, rich people. Leather furniture can easily be treated so that it can't be ruined by spills or animals jumping up onto the sofa. You should know that leather furniture is for all types of homes. It doesn't matter if you're a family with several kids, a retired person, or young adult trying to furnish your first apartment you can find the perfect leather sofa for your needs. This is especially true whenever you purchase your furniture with Peerless Furniture. They offer affordable, quality sofas that are both stylish and comfortable. The selection of leather furniture near Belleville, IL can totally fit into any lifestyle home that is out there.
With Peerless Furniture you'll have experts available to help you find the perfect sofa, recliner, chair, or sectional. They can also stick to a price point so that you won't go over your budget. Contact this local leather furniture store and start the greatest shopping experience that you've had yet.