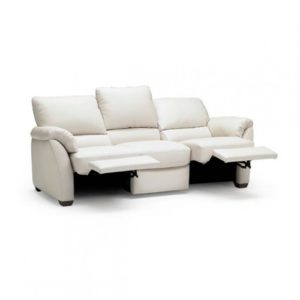 It seems that everywhere you look there is some sort of gadget or function to allow your gadgets to operate for you smoothly. The furniture industry is no different. There are companies jumping on the bandwagon and giving their furniture the ability to work alongside your gadgets to give you the most comfort when utilizing the furniture. Thanks to the Natuzzi Editions brand you can rest easy while listening to your favorite mp3 player. This is just one of the innovative functions of the Natuzzi sofas, love seats, and recliners. The Peerless Furniture store in Fairview Heights, IL is the store that carries all the top furniture brands, including the Natuzzi brand. Other brands include Fjords, Flexsteel, Canadel, and Klaussner.
Natuzzi Editions has an armchair with the previously mentioned audio function. You can easily connect an mp3 player into the hidden minijack cable and the audio will come through the speakers in the headrest of the chair. It's basically like having your own personal concert without having to disrupt any other goings on around you. The Natuzzi Editions audio kit includes a dual output 25 watt amplifier, a 60 watt transformer, 2 x double- cone 25 watt speakers, 100mm in diameter, 4 ohm impedance, and a 3.5 mm minijack cable. And that's just for the armchairs. The audio kit for the sofas include a dual output 25 watt amplifier, a 60 watt transformer, 2 x double – cone 50 watt speakers, 165 mm in diameter, 4 ohm impedance, a Universal docking station for iPod, iPhone, iPod touch, iPod Nano, and a remote control.
Please visit your local Peerless Furniture store near St. Louis to learn more about the innovations and functions of the Natuzzi Editions furniture. It is there where you will find all the best deals on St. Louis leather reclining couches, and armchairs.