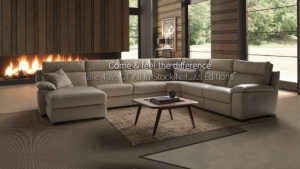 When it comes to furniture innovation standards, Natuzzi is setting the bar. Natuzzi, Natuzzi Editions specifically, is just one of the brands carried at the Peerless Furniture store in Fairview Heights, IL. They have all the best deals on St. Louis leather sofas and loveseats. It is there where you will find all of the top brands of furniture manufacturers. These include Klaussner, Canadel, Fjords, Flexsteel, and of course Natuzzi Editions. Each of these brands is well noted for the innovations and their own advancements within the industry. One of the ways consumers measure a piece of furniture is by its level of comfort. If you're like me then a piece of furniture is only as good as it is comfortable. I'm far less concerned with how it looks than I am with how it feels.
The Natuzzi Editions brand furniture brings comfort to all new levels. Their reclining features are second to none. In addition, they've taken the time to add audio features into many of their pieces as well. In taking it a step even further they've also made a massaging function available in their armchairs and sofas as well. This is a two part function. The first is the stretching movement and the second being the circular action. Both are massaging just in different ways.
The stretching massage function stimulates the circulation through a movement exerted in vertical lines. It produces delicate stretching of the muscles which then release pressure from the spinal disks. The circular action massaging function relaxes the back and neck muscles while eliminating the feelings of stiffness and fatigue. Natuzzi Editions models that have this function come with a remote control to activate the massaging function. That remote control also operates the motor which will open the footrest platform and inclines the back to the maximum position allowed.