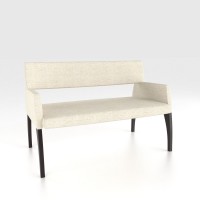 When you begin furnishing your home you want to choose products and materials that will last a lifetime, yet bring warmth and comfort to each and every room in your home. For this reason, you should begin and end your search for the perfect furniture options at Peerless Furniture in Fairview Heights, IL. It is there where you will find the best brands of furniture. They carry Flexsteel, Natuzzi, Fjords, Klaussner, and of course Canadel. Within these brands you will find the perfect variety of solid wood, fabric upholstered and leather furniture near St. Louis, MO. You can easily create a custom look with custom made sofas, chairs, even dining room sets.
Canadel is one of the most popular brands for dining furniture in the business. They stand behind each of their products and build them in a manner that craftsmanship stands out. Not only are their products high quality but they are also quite easy to maintain. In order to keep your Canadel pieces looking as great as the day you purchased them all you need is a damp cloth. That's right, no fancy products or specially ordered materials. Just a little water and a soft cloth. Canadel takes the time and concern to cover each usable surface with a baked-on catalyzed lacquer. Because of this covering the surfaces are strong enough to allow anything that can be eaten or drunk can sit on a Canadel surface for a full 24 hours without damaging the surface at all.
Canadel provides a few guidelines to follow in order to ensure the best look and function of your Canadel dining tables. Some of these guidelines include: storing the leaves of your table in an adjacent closet rather than in a damp basement, keeping your Canadel table out of direct sunlight, avoid using window cleaners on the surface as the ammonia may eventually erode the lacquer, and try to avoid direct sun exposure on a daily basis.