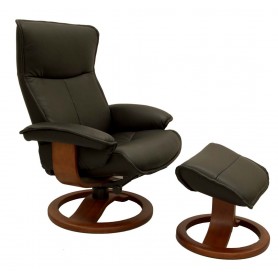 Fjords brand furniture is committed to bringing customers the highest level quality leather in their pieces. They spend time and precision on each and every piece of furniture. As a result, you can have an abundance of peace of mind knowing your custom built leather sofa or leather chair near Belleville, IL is one that will withstand the test of time and look just as good the day you bought it, several years down the road. While they do offer both fabric upholstery and leather coverings for their sofas and chairs they are well known for their line of leather furniture. It is within this line you will find three different types of leather furniture. They offer their Nordic line, their Soft line, and their Astro line of leather coverings.
The Nordic line of leather is a top grain leather which is fully protected. As a finished product it is extremely resistant to liquid stains and the damaging effects of sunlight; not to mention the fact that it is also less apt to become victim to minor stains and everyday signs of wear. As a result, this type of leather covering is perfect for a busy family who intend to use their Fjords furniture.
The next type of leather is the Fjords Soft line leather. this leather is especially soft for an optimal feeling of comfort. It is treated with a delicate, protective finish. It is completely protected against stains and liquids.It too is perfect for a busy fmaily looking to maximize the level of comfort from their leather sofas and chairs.
Finally, the Astro line, or semi-anilin leather is their third leather option for customers. Semi-anilin refers to the fact that the leather is partially dyed. However, the anilin dyeing is just one portion of the process for this leather. Semi-anilin leather tends to have a more fluid look about it. The dye is applied in order to even out the tones of the leather. It also masks blemishes and protect it from liquid stains.This type of leather is also the thickest of each of the leather types. This makes it much more resistant to tearing or damaging.