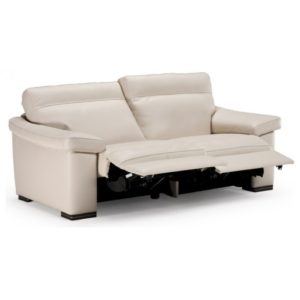 It's not every day that you visit a furniture store that encourages their customers to customize their orders. It is, however, a pretty common occurrence at Peerless Furniture store. We truly want all of our customers to leave 100% satisfied with their purchase and what better way is there than allowing them to create their own masterpiece. Two of the brands that you'll be able to customize furniture through will be Flexsteel and Canadel dining room furniture. These two brands are simply incredible and we love everything they have to offer. From classic to contemporary to eclectic we have something in store for you. If you were to visit our store you could find some lovely reclining leather furniture near Springfield, IL, with the help of our incredible team.
We love to offer our customers an easy, stress-free shopping experience. This is why we can help you customize your next sofa. With Flexsteel you can choose the cushions, fabric, wood finish, and so much more. You can also include recliners for some additional relaxation in your home. With the Canadel dining room line, you can choose exactly what your family needs instead of purchasing an average dining set from a large chain store.
At Peerless Furniture store you will receive an experience, unlike other furniture stores. We don't want you to feel like you're another sell for us, instead, you are a person we want to help through it all. Our team will work with you to find something that fits your needs and stays within your budget. We guarantee that you will never be pushed to make a purchase especially one that is outside of your comfort level when it comes to money. We are always offering great deals and clearance items so that our customers can have enormous savings on their purchases.