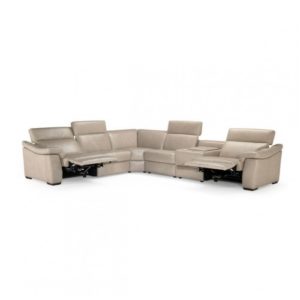 Christmas is right around the corner and with that, it's time to start thinking about all of the parties you'll be hosting. At my home, we tend to have people all through the holiday seasons just to sit around and enjoy company while sipping on some delicious hot chocolate. We designed our home to be the gathering place because we love having people over. If you are looking to make your home the "hangout" spot then you need to make sure that your living room is comfortable. It needs to be an inviting room with tons of comfortable furniture to relax on. If you don't any inviting, comfortable furniture don't freak out yet! Peerless Furniture is here to help you out.
If you're looking to make your living room a little more welcoming then you should consider purchasing a large sectional with recliners. Nothing says "come on in and kick back" like a cushy recliner. You can find a wide variety of these reclining leather sectionals near Springfield, IL at Peerless Furniture. You can choose between the top brands of Flexsteel, Natuzzi Editions, and Fjords at this store. With this variety, you're sure to find something that you will love that fits your budget.
The Peerless Furniture store has a huge selection of furniture for you to choose from. This store offers only high name brands so you know that you'll be purchasing something that will be comfortable for years to come. You won't have to worry about a super expensive price tag either. They make sure that all of their furniture is priced well and they aren't going to charge you anything that would break the bank. If that doesn't bring a smile to your face then I don't know what will! Visit Peerless Furniture to start your shopping process out on the right foot.