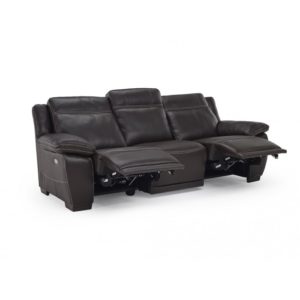 We here at Peerless Furniture are committed to helping our customers make their house a home. This is why we furnish our showroom with only the best leather furniture on the market. When it comes to choosing the right piece for your home the possibilities are endless. Each brand that they offer in their store are all top of the line and well known for the quality that they offer. These companies know how important it is to have furniture that can last a long time while being comfortable and stylish.
When we take a look at furniture over that last few years we can see that innovations are coming along. We finally have more options when it comes to styles and even more features that can be added to the pieces that are made. It wasn't long ago that reclining options were only available for chairs, but now you can have them with a sofa and sectionals. You can also have electric mechanisms for your recliners so that you don't have to struggle with the manual pull. The electrical mechanisms are so much more convenient for the elderly who don't have a lot of strength left to recline their chairs.
One extremely loved feature that is offered with the Natuzzi Edition recliners is the no-mark reclining. This means that you aren't going to leave marks all over your walls behind the recliners anymore. This is because the reclining mechanism moves the chair down and out instead of back and out. No more of those terrible scuff marks along the backside of your furniture.
We here at Peerless Furniture want to help you find the perfect new leather reclining sofa near Waterloo. Visit our store and talk with one of our representatives today. They'll point you in the right direction of what you may need.