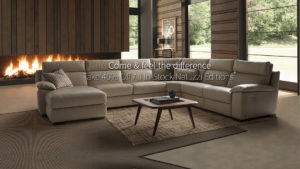 Finding affordable, high-quality furniture can seem like trying to find a needle in a haystack. However, thanks to the Peerless Leather Furniture store near Litchfield, IL you can find just that and more. Everything at the Peerless Furniture store comes from the top brands in the furniture market. It is there where you will find brands that include Flexsteel, Fjords, Canadel, Klaussner, and Natuzzi Editions. Each of these is well known throughout the industry as setting the bar in comfort and overall furniture innovation. Stop in the store today to learn more about these brands and their high-quality furniture pieces.
The Natuzzi brand is probably one of the most popular you will find at Peerless Furniture. Their pieces are highly versatile and fit well within just about any style and design. This is one brand that when you buy it, you buy it for life. Their pieces are second to none when it comes to quality. Every Natuzzi product starts as just a draft on a piece of paper. After that there is a team of 120 professional designers, architects, color experts, craftsmen, engineers, and furniture specialists devoted solely to design quality. They focus on studying current trends and choosing the perfect materials available. They look for the newest and best materials in leather, wood stains, fabric, metal, glass, and ceramic.
Each year there are over 6,000 sketches made but only roughly 120 make it through the process to the final verification stage, the development of a hand-built prototype. This part of the process is particularly crucial as it is there where everything is now aimed at improving the look, comfort, practicality, and optimizing the use of materials while ensuring a fair price.
So yes, there is much thought that goes into making sure this furniture is high-quality and highly affordable at the same time. Stop in the Peerless Furniture store today to see for yourself.