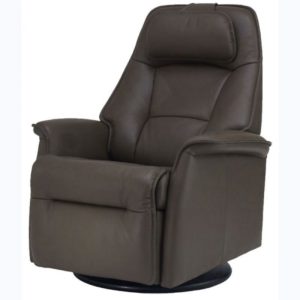 The Peerless Furniture store in Fairview Heights, IL carries all the top name furniture brands on the market. It is there you will find brands including Natuzzi Editions, Flexsteel, Fjords, Canadel, and Klaussner. Peerless has all the latest trends on St. Louis leather recliners for sale. Stop in the store to see them in person or simply begin perusing the online inventory via the website. You really can't go wrong when you choose to shop at Peerless Furniture store. Don't feel the need to stay within one brand in particular. You can easily mix and match the pieces to fit your space, décor, taste, and style. Simply ask one of the sales representatives for assistance if you so choose. They are willing to help in any way they are able.
The Fjords brand is well known for their reclining furniture. If you are looking to add a recliner or reclining furniture to your living space but don't want an oversized bulky piece, I highly recommend the Fjords brand recliners. They are sleek and classically stylish. They fit well within most any design scheme or décor. However, style isn't the only thing they have going for them. They also push the limits on comfort too. These recliners are second to none.
The Fjords brand company has dedicated their business to ensuring the reclining furniture they produce provides the utmost level of comfort to the user. All their reclining pieces are equipped with their Active Release System. This system automatically provides the best neck and back support you can find. It is easily adjusted too, by a single body movement to further enhance the seating experience. Some of the chairs have even been equipped with a height adjustable neck support as well. This takes the level of comfort to an entirely new level still.