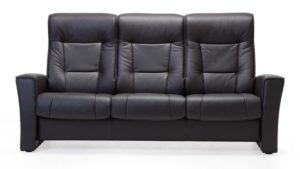 A great sofa doesn't have to cost an arm and a leg. If you're looking for the best deals on reclining sofas in the St. Louis area, look no further than the Peerless Furniture store in Fairview Heights. It is there where you will find all of the top brands in the furniture business. These include Klaussner, Canadel, Natuzzi Editions, Flexsteel and Fjords. Each one of these brands has been serving customers globally for decades and continues to set the industry standards in quality, innovation, and customer service. Thanks to the Peerless Furniture store you can shop all of them under one roof.
If you're looking to add reclining furniture to a room with a slight space disadvantage you may want to consider a reclining sofa from the Fjords brand. Fjords is well known for their ergonomic designs and incredible reclining chairs. It just so happens that they've made this technology available in their sofas as well. They have once again, pushed the innovation limits in this area as well. Not only have they made their sofas able to recline but they've made it that any seat on the sofa can recline, not just the end seats that are traditional equipped. They've also made the feature available in their high back and low back sofas, which means they truly are customizable for you.
The Fjords high back sofas have a reclinable back, adjustable neck support, and are available with 2 and 3 seats. You also have several options for arm support as well. Their low back sofas have a reclinable back and are also available with 2 or 3 seats. You can also choose your armrest with these sofas as well.
If you're looking to add reclining furniture to your home consider the Fjords brand. You will love the way it feels and functions. Trust me.