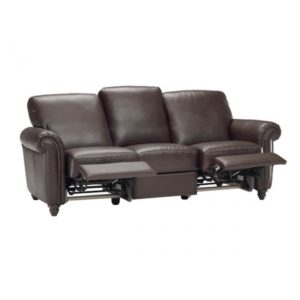 The Peerless Furniture store located near St. Louis MO has all the best deals on leather reclining sofas and recliners. In fact, they have all the best deals on all types of sofas, love seats, and living room furniture. It just so happens that they also carry all the top brands as well. So each time you purchase anything from Peerless Furniture you're making an investment into the comfort and style of your home; one that will last you for decades. They carry brands which include Canadel, Klaussner, Fjords, Flexsteel, and Natuzzi Editions. Each of these is well known for their attention to detail and practice of using high quality materials to build all of their furniture pieces.
If you're looking for the perfect reclining piece of furniture, you no longer just have to consider a bulky recliner. Natuzzi Editions provides reclining features in their armchairs and sofas as well. They have designed their reclining pieces to either move statically down or away from the wall, so there is no need to place the reclining furniture so far from the wall. This allows you to achieve the comfort of reclining furniture without compromising on living space.
If you happen to choose a reclining armchair, chances are you will activate the recline feature through the use of dorsal pressure. Simply place your arms on the armrests and, while pressing your back against the backrest, and push. This will kick out the footrest and bring the chair into a reclining position. To return to its natural sitting position you simply move your trunk forward while giving pressure to the footrest with your legs.
To experience the dorsal pressure reclining function on a Natuzzi Editions armchair, stop in to the Peerless Furniture store in Fairview Heights, IL today. Their store representatives are eager to help you find the perfect reclining furniture for your home.