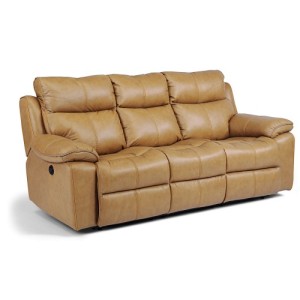 When it comes to quality construction, Flexsteel has it mastered. Flexsteel has built a business and brand on the corner stone of excellent craftsmanship. When you buy new leather furniture from Flexsteel you are making an investment into the comfort of your life. Each piece is carefully designed and manufactured in order to meet supreme standards of quality. At Peerless Furniture in Fairview Heights, IL you will find a large selection of Flexsteel leather furniture near St. Louis, MO. Each and every Flexsteel piece will make a dramatic impact in your home or office.
Quality construction starts with the frame of the furniture. Flexsteel is committed to using only moisture resistant, cross grain laminated wood. They are so confident in their design construction of the frames that they guarantee them for life. Where wood and construction would be the most vulnerable would be at the joints. It is at the joints where Flexsteel makes dado-cut overlapping joints. They are reinforced with hardwood blocks in order to generate more stability and strength. The base rail joints are reinforced using corner blocks which are glued and screwed into place.
The seat springs in Flexsteel furniture are also guaranteed for life. Their blue steel seat springs deliver supreme levels of comfort and durability. What makes them different from other manufacturers? Flexsteel's seat springs never need retying or replacing!
This entire frame is then covered in padding and plush cushions are sure to bring you to an entire new level of comfort. For more information on the entire line of Flexsteel leather furniture available at Peerless Furniture near St. Louis simply contact a store representative. They will be happy to assist you with all of your furniture needs.