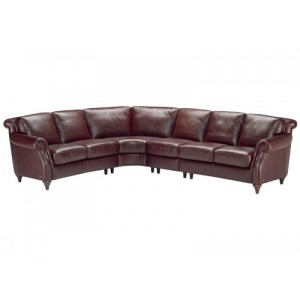 Your furniture buying venture may begin by considering colors and covering of your next new sofa and/or accent chairs and other pieces. After such conversations you may also begin considering whether you will enjoy a fabric covered piece of furniture or leather. While each have their own advantages they also have their own presence they bring to a home. Many consumers associate quality leather furniture with those citizens "well off" or those who demand the attention and respect from other around them. However, leather furniture is an excellent addition into any home. Whether you are a power couple who enjoys entertaining, or a busy family looking for something comfortable and attractive you will find the perfect leather addition for your home at Peerless Furniture. Leather furniture, especially the leather furniture near Belleville, IL, has a unique way of fitting perfectly into just about any lifestyle.
A high-quality leather sofa, sectional or chair will command the attention in any room. A classic piece of leather furniture will also withstand the test of time and is easily changed with a few pillow or throws to adhere to any type of decor or theme. Many current leather furniture owners enjoy the leather covering over a fabric version for many reasons. Often leather is much easier to keep clean. As a result, it is the perfect option for allergy sufferers. It is also a great option for pet owners. Pet hair and dander will never stick around when you have leather furniture. A simple wipe down of the furniture pieces ensures the sofa or chair is clean and free of these agents each time you sit.
If you have never owned leather furniture and are interested in finding out more about it, simply contact a Peerless Furniture representative. They will be happy to assist you in finding the perfect leather furniture piece for your home.