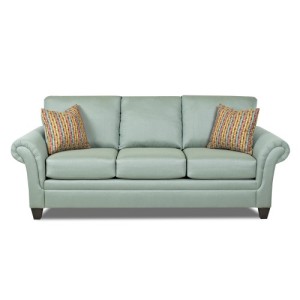 As you carefully and poignantly choose the pieces of furniture for your home you will also need to consider the care and maintenance of the furniture. Why invest in a piece of furniture just to drop the ball when it comes to care and maintenance? the only thing you will be left with is a dent in your bank account and a sad looking living room. At Peerless Furniture you can count on getting a high quality leather sofa or Peerless Furniture leather chair to perfectly accent or set the tone in your home. In addition, each piece will come with care and maintenance instructions in order to help keep your favorite leather piece looking, feeling, and functioning like new.
Klaussner is just one of the leather furniture brands carried by Peerless Furniture. The Klaussner brand is sure to carry exactly what you need. Once you've found that perfect leather sofa or precisely the right leather chair in Fairview Heights, IL you will be given the appropriate care instructions as well.
Klaussner breaks down their care methods into three different codes. You will either get a piece of furniture with a code "A", a code "P" or a code "N". Each of these represents a specific care plan for the sofa or leather chair. Code "A" refers to aniline leather. Code "P" refers to pigmented or aniline-plus leather. Finally, Code "N" refers to nubuck leather. Each of these special codes will include regular ongoing maintenance, keeping the unit clean by using a soft cloth or the soft brush attachment on your vacuum for regular dusting of the leather covering. Doing so will keep dust and dirt from settling on the furniture, leaving a more lasting imprint, potentially changing the quality of the leather. Refer to the appropriate care method for your next Klaussner leather chair or sofa.