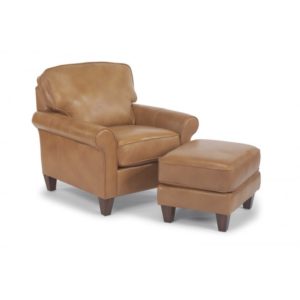 At Peerless Furniture store our customers will be able to find a huge variety of furniture. We offer the standard sofas, chairs, recliners, sectionals, dining room sets, and so one, but we also have so much more. There you will find an incredible staff that can help you hunt through our in-stock items to find the item you've been searching for or they can help you customize an order. The brands that you can shop from include Flexteel, Natuzzi Editions, Fjords, Canadel, and even more. These brands are all top of the line with only high-quality items to offer.
The Flexsteel brand is known well for all of the great leather furniture that they produce. However, you don't have to buy a full sectional or sofa set to enjoy the Flexsteel brand. They offer some great accent chairs with ottomans, sleeper sofas, desks, and dining sets too. We are in love with the Westside Stationary Chair with the ottoman that is currently in our store. This is a beautifully crafted seat with a sophisticated feel to it. You can get the high-end look with the stuffy uptight feeling because this chair is super comfortable. You will definitely find yourself kicked back and enjoying a good book if in this chair if you were to purchase it. It's great for any room in the house or office. If you don't believe us then you definitely need to stop by our store and check it out for yourself. This beautiful light brown chair can fit in a million different home styles because it has the ability to blend well with any style it's put into.
Stop by the Peerless Furniture store to find this leather chair and other leather Flexsteel Furniture near Carbondale, IL, to take in its beauty and comfort for yourself. We can't wait to show you what we've got.