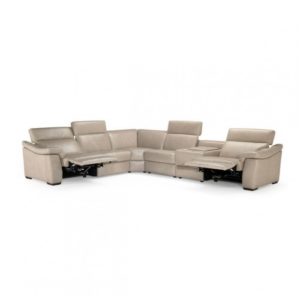 It's important to us at Peerless Furniture to offer the top brands of leather furniture in our showroom. With these top brands, you know that every part of the piece of furniture was made with high-quality materials. There are few companies out there that truly care about their customers this much, but Peerless Furniture does. This is why they offer Flexsteel furniture in their store. Flexsteel has been around for decades always trying to perfect their craft. They have been around through all of the ebb and flow of styles and trends and have come through on top.
The Flexsteel brand feels the same responsibility that Peerless Furniture when it comes to the level of perfection that they offer. You can find a variety of sizes and colors of sofas, chairs, recliners, sectionals, and even leather reclining sectionals near Springfield, IL. We know that you can find something beautiful and stylish for your home without having to compromise on comfort. Each piece of Flexsteel furniture will come with the Blue Steel Spring system. This system is so perfect that it hasn't been changed over the 75 years it has been in production. This spring is so great that it won't ever need to be restrung or tightened. You will never have to deal with your furniture cushions sagging or dipping in the middle because of this. This furniture can last you an entire lifetime because it won't fall into disrepair in the next couple of years as you use it because of this system and the high-quality materials used to build it.
There is still so much more to learn about the Flexsteel furniture brand and you can do so by visiting Peerless Furniture. They have a crew that can point out all the great benefits of owning this brand of furniture.