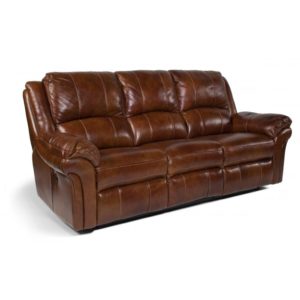 You never have to stress about furniture shopping ever again whenever you shop with Peerless Furniture. This leather furniture store has a crew that works tirelessly to ensure that every customer has a great shopping experience. Trust me, you're going to love what this store has to offer. You'll find brands like Flexsteel, Fjords, Natuzzi Editions, and several others. These brands are all highly regarded in the leather furniture world. When you purchase a piece of furniture from these brands you're getting something that is made with some of the best materials. To top it all of you will receive some warranty coverages to protect you in the event that something were to unexpectedly go wrong.
Every brand we have at our store is incredible, but one of our favorites right now is the Flexsteel brand. This brand has been around for many years and securing their high-quality name. One of the best parts of their furniture is the Blue Steel Spring you'll find in the seats of their furniture. These springs are created in a way that they'll never have to be restrung or tightened up. This means you are never going to have to deal with your seats sagging down over time. They will remain firm with great support for many years to come. We are excited that you won't be wasting your money on furniture that will have to be replaced every few years.
Now that you know a little bit more about the Flexsteel brand you should come take a look at it in person. We have a great variety of reclining Flexsteel furniture near Marion, IL, including chairs, loveseats, recliners, sectionals, and sofas. Whenever you're ready to take a look at some of these pieces you can stop by our store and talk with one of the representatives on staff. We can't wait to help throughout your whole process.