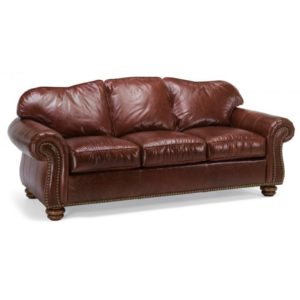 If you are looking for a great leather furniture brand then you definitely should check out Flexsteel at Peerless Furniture. The Flexsteel Furniture near Troy is all high-quality, stylish pieces with a great price tag. This brand has been around for many years so they have had time to perfect their craft. You can find a wide variety of styles in this brand, but they are all going to be comfortable and durable. At Peerless Furniture store you can find their recliners, chairs, loveseats, sofas, and sectionals. You'll be able to top off your living room with a little extra love with this brand.
One of the most important pieces of manufacturing for the Flexsteel brand is their springs. These are called the Blue Steel Spring and their construction has hardly been changed in the past 75 years because it's so well built. This support system is in the cushioning of the furniture and with these, you'll never sag through. Most furniture begins to sink over time, but these springs will never do this to you. Flexsteel believes so strongly in these springs that they back them with a lifetime warranty.
This brand of furniture is made with only the best materials to make sure that they create extremely high-quality furniture. They have some intense quality control going on in their stores. They have to test every inch of the furniture to ensure that is perfect for you. This should make you a little more comfortable paying for something when you know it's going to last you a long time.
Whenever you're ready to learn more about Flexsteel or the other brands at Peerless Furniture you can simply visit with one of their representatives. We'll ready to buy new furniture in no time whatsoever. Stop by our store or visit the website to take a look at what we have available.