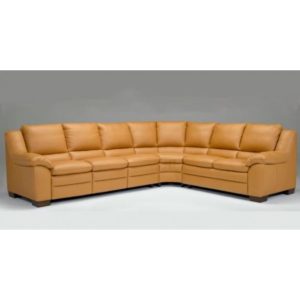 Are you looking for total comfort with outstanding design? Well, you have come to the right place. Find the most incredible leather furniture near St. Louis, MO at Peerless Furniture. They have top brands like Natuzzi which will offer up all you could want and more. At Peerless Furniture you'll be able to find exactly what you're looking.
Nothing offers you more functionality than a sectional and, lucky for you, Peerless has some incredible leather sectionals to offer you right now. Perhaps you're looking for something that can give you space for the whole family with room to spare. Peerless has you covered with the Natuzzi A450 Reclining Sectional. This beautiful piece of furniture can give you plenty of space for everyone to sprawl out with the added benefit of two manual recliners built into it. With these sectionals, you can pick and choose the pieces that make the most sense to you. You'll be in control of the style of your sectional. With this furniture, you will also be able to purchase a sleeper version for even more functionality if you were to have extra house guests. If you're looking for ways to change up your sectional then the Natuzzi sectionals are the collection for you. You'll be able to adapt your furniture to your living area.
With the Natuzzi Edition sectionals, you can choose the style and color of leather that you purchase. You will have leather that is protected so that your furniture can withstand the stains and aging that comes with family furniture. If your home is full of family, friends, and pets then this strong durable furniture is the right pick for you. Don't take my word for it! Visit Peerless Furniture now to take a look at the sectionals that we've been talking about.