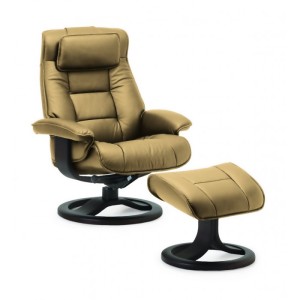 When it comes to the furniture in your home, don't trust just any old furniture store. Come to the Peerless Leather Furniture store near Springfield, IL. It is there where you will find all the top furniture brands on the market. Just like the brands they carry, Peerless Furniture is committed to excellence and bringing their customers exactly what they are looking for while continuously pushing the boundaries of comfort. Their furniture simply speaks for itself. In their showroom, you will find brands which include Natuzzi Editions, Flexsteel, Canadel, and Fjords. You've probably heard of these brands at one point or another but I urge you to become more familiar with each of them. They are outstanding companies that develop and manufacture the best furniture in the world. Any one of their pieces would be a welcomed addition into any home, especially yours.
Each Fjords brand recliner has continuous reclining of the neck and back. Because of this you will get comprehensive support that not only, allows your body to recover from tiredness, but it will actively work to prevent tiredness in your legs and back. Everybody has a unique resting position. To achieve your perfect resting position, you need to move your body only slightly. The recliner will adjust accordingly to achieve your perfect resting position and hold it.
Each of the Fjords brand reclining chairs is equipped with the Active Release System. This system automatically provides the best neck and back support of all the recliners on the market. Through just a single small movement the chair reacts and adjusts to improve the resting position. Some of the chairs even come equipped with height adjustable neck support along with the Active Release System. Each model is uniquely designed to support your spine comfortably in all the right places and angles.