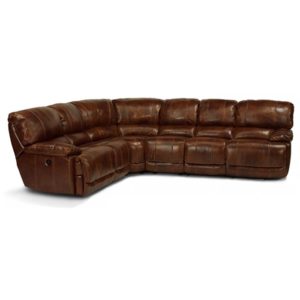 Chances are, if you live in America, you own or hope to own a recliner of some sort. There's no denying the fact that these provide a certain level of comfort that you simply cannot get from a traditional sofa or loveseat. At the Peerless Furniture store in Fairview Heights, IL you will find a wide array of leather furniture near Springfield, IL and reclining sofas and love seats as well. It is there where they are committed to carrying all the top furniture brands on the market. For instance, there you will find Natuzzi Editions, Flexsteel, Fjords and Canadel.
The Flexsteel brand is one of Peerless' most popular and for good reason. The Flexsteel company has been serving their customers for decades and continues to bring about furniture that pushes innovation boundaries and brings the next level of comfort year after year. Their recliners are arguably second-to-none. And as it would go, you don't have to get a big bulky recliner to the highest level of comfort from it. They have conspicuously inserted their best reclining technology into their sofas, love seats, and even their sectional sofas too. Furthermore, they have made it so that you can have your sofas and sectionals custom built and still include the reclining feature in the positions you would like.
The sales representatives at the Peerless Furniture store are standing by ready to help you find the perfect recliner, reclining sofa, or reclining loveseat for your home. If you have an idea of what you would prefer in terms of style and design, they can easily get what you want ordered at a great price. However, if you have only a short list of what exactly you're looking for in your next sofa or love seat, let them help you narrow down your options to make sure you get exactly what you want.