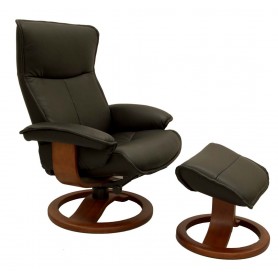 It's always comforting to know you have options in life….even while shopping for a new furniture set. This is precisely what you will find when you shop at the Peerless Furniture store in Fairview Heights, IL. There you will find the popular Fjords brand furniture line. This brand offers 11 different lines offered to consumers. In a previously posted article we reviewed some of the specifics of the Klippe, Grip, Adventure, Ona and Alnes lines. In these lines you will find a wide variety of leather furniture near Collinsville, IL.
Following the Alnes line you will find the Alfa 510 and the Alfa 520 lines. These two lines are quite similar actually. They both marry leather coverings with classic wood accents. They come in high or low back varieties and can be individually matched to create a completely custom set.
The Boss line is one which commands attention, just as its name would insinuate. In this line you can choose between 6 different bases and two or three seater sofa options. You can still also choose between high back or low back options. The Avensis line is next and offers two different types of arms. Just as with many of the other lines, you can choose between high back and low back with the Avensis line. The Admiral line offers arguably one of the most comfortable leather chairs you will sit in. While this type of chair will adapt to any body type it is known for its superior lower lumbar and neck support.
Finally, Fjords offers the Classic line. The Classic leather chair will offer optimal support and comfort. However, it is an expert at utilizing your own body weight to get correct positioning in order to decrease tiring of your legs and back. For more information on this brand simply contact the Peerless Furniture store near St. Louis, MO.